STRATEGIC ALIGNMENT WORKSHOP
The framework, tools and facilitation you need to align your strategic objectives with your change management efforts—with virtual workshop now available.
Focus your core team and rally your staff
Prosci's Strategic Alignment Workshop helps you effectively communicate the reasons behind launching an enterprise-wide approach to change management to align key stakeholders and staff with a common goal.
We offer the help of an expert change management facilitator and a bevy of tools at your disposal. This workshop accelerates your organization's change capability development, giving you a plan that will turn your vision into a reality.
Prosci can also facilitate this workshop virtually. Contact us to learn more about this new online workshop.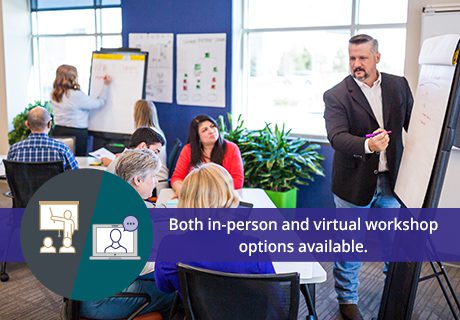 Available as: in-person, virtual instructor-led
Intended for: Functional Leaders, Executive Sponsors
Who should attend
Our most frequent attendees are:
 Executive sponsors
Deployment leaders
Functional leadership
Key organizational influencers
Is your team ready?
The Strategic Alignment Workshop is designed for 4-20 people.
Workshop Objectives
Share your vision for change capability and how it ties into your organizational strategy
Understand the goals and objectives behind building your organization's change capability
Analyze the current state and clearly define the future state of your organization's capacity for change
Clearly define the roles and responsibilities of your key change leaders
Plan a sequence of events that will cultivate enhanced organizational change capability
Master an elevator speech that clearly explains why and how your organization will become change-ready
Day 1
Meeting kickoff
Unpacking enterprise-level change management deployment ambitions
Mapping change management maturity
Aligning enterprise change management goals
Day 2
Exploring change management roles and responsibilities
Creating and deploying your change management roadmap
Establishing key program milestones
Refining communication and planning for success
Interested in our programs?
Get in touch!