CHANGE MANAGEMENT EMPLOYEE ORIENTATION
Inspire your employees to embrace your plans for change and help them understand their pivotal role in your organization.
Transform your culture of resistance into a culture of resilience
Whether you're implementing a small process change or a high-investment strategic paradigm shift, you will only be as effective as your employees' willingness and ability to adapt.
Using the Prosci ADKAR Model, our Change Management Employee Orientation mitigates employee resistance by preparing them for change. This program addresses employee concerns and equips them with the skills and framework necessary to thrive through change.
This program is available in both in-person and virtual instructor-led formats. Contact us to learn more.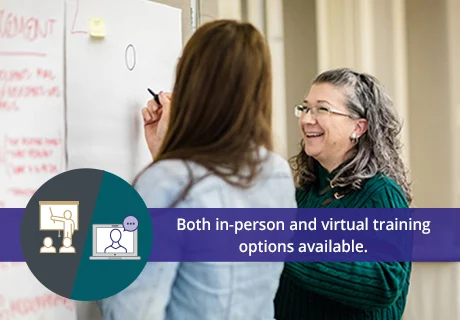 Training format: in-person
Intended for: Front-line Employees
Who should attend
This program is for employees of your organization who are impacted by changes. The program is most effective when employees impacted by the same changes attend the program together.
Did you know?
Participants in Prosci's 2018 Best Practices in Change Management study identified change resistance from all levels of the organization. But resistance was most prominent from those directly impacted by a change who didn't understand the value of the change.
Learning Objectives
Evaluate a current change in your job to understand and internalize learning
Learn how to use the Prosci ADKAR Model to identify your points of resistance
Discover how to communicate about a change in a way that is productive and proactive
Create proactive strategies for overcoming your feelings of resistance
Become confident and empowered in the change process rather than victimized by it
This one-day program covers:
Change is a process
Resistance and emotional reactions to change
Senders and receivers
Prosci ADKAR Model
Individual action plan and next steps
Course Materials (included)
As a course participant, you gain access to industry-leading content and tools:
Program workbook
Employee's Survival Guide to Change
The Prosci ADKAR Model eBook
Interested in our programs?
Get in touch!