CHANGE MANAGEMENT SPONSOR BRIEFING
Learn how to make active and visible executive sponsorship a regular part of all your change initiatives.
Executive support is your secret to success
Effective executive sponsorship is the greatest contributor to successful change, according to all nine of Prosci's benchmarking studies. Yet 50% of executives don't understand their sponsorship roles and how to lead effective change.
Our Change Management Sponsor Briefing helps bridge this gap by clarifying the sponsor's role during change, providing easy-to-use frameworks, and building a critical connection between effective change management and business results.
This program is available in both in-person and virtual instructor-led formats. Contact us to learn more.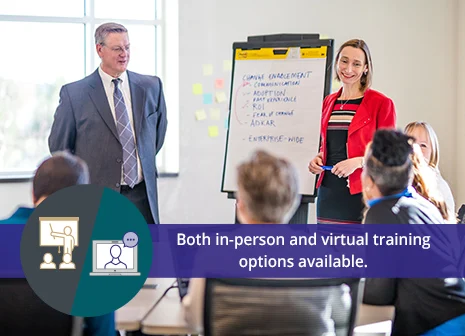 INTENDED FOR: Organizational leaders, Senior executives
Who should attend
Sponsor Briefings are great for organizational leaders who are leading change and need to understand their sponsor roles so they can deliver effective, meaningful change with measurable results.
Did you know?
According to Prosci's 2018 Best Practices in Change Management report, 72% of respondents with extremely effective sponsors met or exceeded objectives compared to 29% with extremely ineffective sponsors.
Learning Objectives
Understand how effective change management improves organizational results
Clarify the role of senior leaders as sponsors in times of change
Evaluate your current change portfolio to identify project and people-side risk
Assess your level of competency in sponsoring and leading strategic changes
Learn how to position yourself and your projects for strategic success
Explore best-practice research on the synergies among sponsorship, the people side of change, and achieving organizational results
Understand how to ensure adequate resourcing for change management at the initiative and project level
Appreciate why active and visible sponsor support throughout a project is essential to successful change
Course Materials (included)
Program workbook, handouts and assessments
Best Practices in Change Management – 11th Edition Excerpt
One-year subscription to digital content in the Prosci Hub Solution Suite, including:
Research Hub – digital versions of Best Practices in Change Management – 11th Edition, topical studies, and relevant data across a broad array of topics
Interested in our programs?
Get in touch!