Change Management
Change Management is the application of a structured process and set of tools for leading the people side of change to achieve a desired business outcome.
WITHOUT CHANGE MANAGEMENT
Employees feel surprised and besieged by change
Extended project schedules
Employees feel prepared, equipped and supported
Likely to stay on schedule
Capture people-dependent ROI
Tailored Solutions to Meet Your Needs
Whether you are an individual seeking to update your professional qualifications or responsible for change in your organisation we have a solution for you
Certification Program
Our three day workshop will equip you with change management skills to successfully drive your projects. The Prosci® methodology, tools and ADKAR® Model are used in this experiential learning program to enable participants to develop scaled change management strategies for projects and initiatives.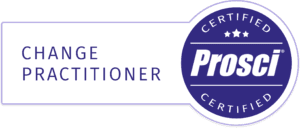 Role-based Training
Our role based training programs target individuals at every level of the organization to help them apply change management to existing projects to achieve success in your initiatives.
E-Learning
Prosci eLearning modules accelerate and scale your company's change capability by providing a common language for change and helping individuals understand their role in the change process.
The Prosci ADKAR model
The World's Most Widely Adopted Individual Change Management Framework
The Prosci ADKAR® Model is a change management model backed by 20 years of Prosci research. The model is based on the common—yet often overlooked—reality that organizational change only happens when individuals change. The ADKAR Model is a simple step-by-step approach that helps you and your team achieve success, no matter how complex the system, process, approach or culture you need to affect or transform.
Examples of organizational changes
IT System Deployment and Upgrades
Business Process Re-engineering
Organizational Restructuring