LEADING YOUR TEAM THROUGH CHANGE WORKSHOP (virtual)
Gain all the tools, knowledge and confidence you need to lead your team through organizational change in this new workshop.
Be a change leader who inspires others
Managers are the first example that employees look to when they need to adopt a change or understand how a change affects them personally.
This online, instructor-led workshop is designed to help people managers proactively lead teams through change. You'll learn how to define and accept your role in change, plus gain practical frameworks for becoming an effective change leader.
(For the Enterprise Training version, this program is available both virtually and in person.)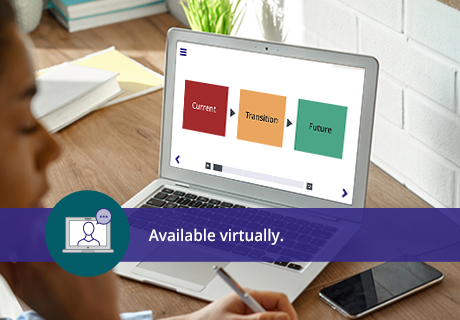 Course Dates:
April 26, 2023
September 13, 2023
Training format: virtual instructor-led
Intended for: Line Managers and Supervisors
Who should attend
This workshop is perfect for anyone who manages employees, from front-line supervisors to middle managers to senior directors. The workshop is not intended for change practitioners or project managers responsible for building change management plans (please see Prosci Change Management Certification Program).
Did you know?
Prosci's 2018 Best Practices in Change Management study reveals that only 34% of those surveyed indicated they adequately prepared managers and supervisors for their roles in change.
Learning Objectives
Understand foundational change concepts
Gain insights into best-practice research data
Be able to apply the Prosci ADKAR® Model to facilitate individual change
Know how to lead your team through change by embodying the CLARC roles for people managers (communicator, liaison, advocate, resistance manager, coach)
Have ready access to the robust, in-practice Change Management Guide for Managers
Part 1
Learn foundational change concepts
Apply the Prosci ADKAR Model
Understand best practices in change management
Prepare yourself for change
Part 2
Lead your team through change enabled by CLARC roles
Effectively communicate and advocate
Manage resistance and coach employees through transition
Reinforce change as a liaison and celebrate successes
Course Materials (included)
Program workbook and placemat
Best Practices in Change Management – 11th Edition Excerpt
Employee's Survival Guide to Change
One-year subscription to digital content, resources and tools in the Prosci Hub Solution Suite, including:
Research Hub – digital versions of Best Practices in Change Management – 11th Edition, topical studies, and relevant data across a broad array of topics
Knowledge Hub – In-Practice Change Management Guide for Managers
Note on Time Requirements:
For the online program, you will need to be online for approximately 8 hours each day during the dedicated class time. In addition, you will need to complete approximately 1 hour of self-study on Day 1 and Day 2. In-person programs have slightly different requirements. Please see individual program listings for more information.
Course: LEADING YOUR TEAM THROUGH CHANGE WORKSHOP (virtual)
INTENDED FOR: Line Managers and Supervisors
TRAINING FORMAT: in-person & vistual instructor-led
Please click 'Get Details' to enquire about this course and speak to one of our consultants.
To register, please select the number of delegates and enter name and email for each (other fields are optional):
Interested in our programs?
Get in touch!