Training Programs
Prosci Change Management Certification
Our three day workshop will equip you with change management skills to successfully drive your projects. The Prosci® methodology, tools and ADKAR® Model are used in this experiential learning program to enable participants to develop scaled change management strategies for projects and initiatives.
During this three-day experiential learning program, participants will gain the knowledge, skills and tools to drive successful change initiatives. They will also apply holistic change management methodology to a current project during the program. Participants will leave with a change management plan designed to effectively manage change and enhance project results.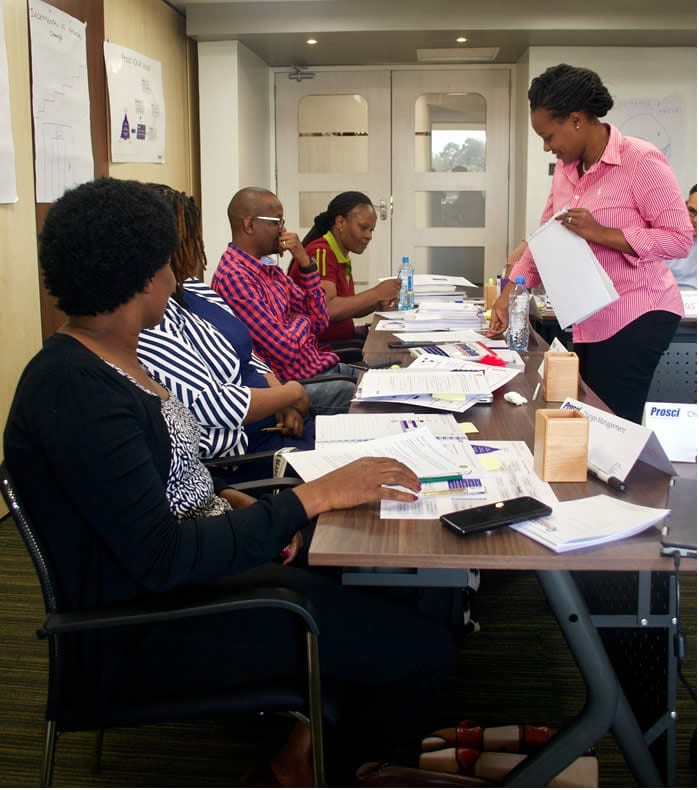 We welcome individuals responsible for driving change and looking to improve their expertise on change management.
Our predominant participants usually are:
Change leaders
Project managers
IT professionals
Project team members
Change management practitioners
Continuous improvement specialists
Human Resource business partners
Organization development professionals
By completing the Prosci Change Management Certification, participants will:
Understand the fundamentals of change and change management

Understand how effective change management improves organizational results
Articulate the value of change management to peers and leaders with a presentation on the business case for change management

Walk away with a change management plan

Learn to apply the Prosci 3-Phase Process change management methodology to a real project
Learn how to apply the Prosci ADKAR Model to facilitate individual change

Achieve certification in the Prosci change management methodology

Gain access to Prosci change management tools
Program workbook, assessments and handouts
Best Practices in Change Management
Employee's Survival Guide to Change
Change Management: the People Side of Change
ADKAR: A Model for Change
One-year subscription to the Prosci Practitioner eToolkit
Day one:
Why change management?
The ROI of effective change management
The Prosci ADKAR® Model
7 concepts of change
Preparing for change: assessing change readiness
Day two:
Preparing for change: building team structure and assessing sponsorship
Managing change: creating customized communication and sponsorship plans
Executive project plan presentations
Day three:
Managing change: creating coaching, training and resistance management plans
Reinforcing change
Exam & graduation
Interested in our programs?
Get in touch!
Please use this form to enquire: